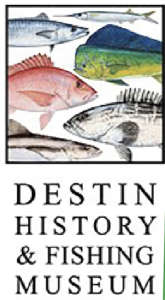 • Founded in 2005, the museum has preserved and taught our city's history. It features the history of early pioneers from the 1830s and the history of the fishing industry from seine boats to the boats that you now see in the Destin Harbor today.
• The Destin Fishing Rodeo exhibit focuses on telling the story of how the Rodeo got started and what it means to the Destin community today. The Rodeo is one of the longest running fishing tournaments in the US. Anglers travel from all over the world to compete in the Rodeo. The tournament is a multi-species, 31-day event held annually in the month of October.
• Our newest exhibit focuses on the history of Diving in Destin. The first divers moved to Destin in the 1950's. Since that time, diving, snorkeling and scuba have become popular in Destin.