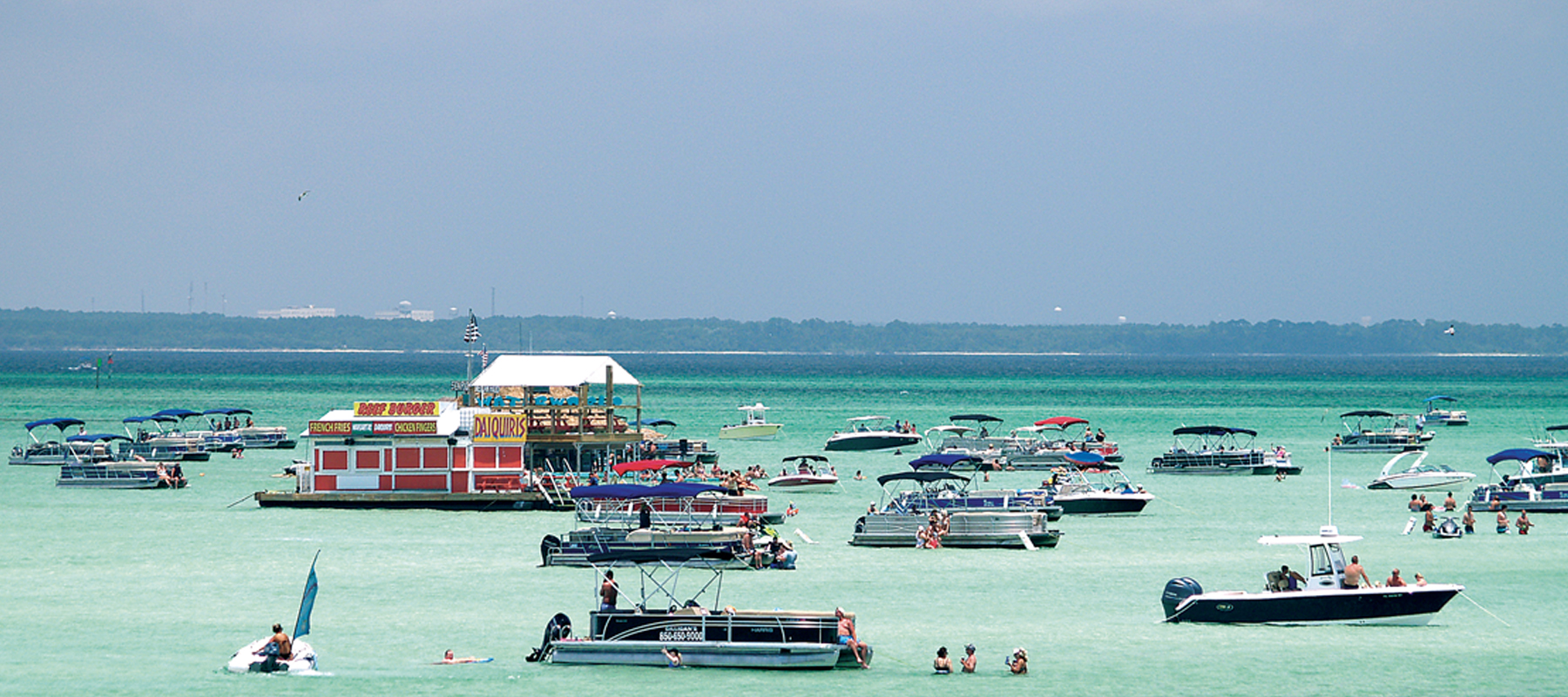 The Emerald Coast is full of opportunities for excitement, whether being from the sky, the surface of the water, inland areas with room to play or below the water's surface. Without spending a dime, the beaches and natural areas provide endless entertainment.  When seeking excitement outside of what nature alone offers, you may need a little help from the people with boats, rental equipment and watercraft, golf carts and activity venues. You may want to try something you've never done, requiring someone with knowledge of the area and of the specialty equipment required.  There are always new providers of entertainment and existing ones with additions to their operations. Ask around for what is new, and always experience a different activity from those you did during your last visit.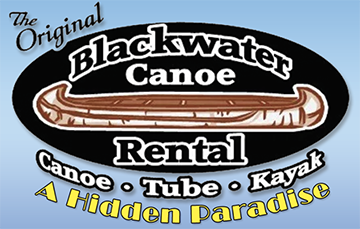 850-623-0235, 6974 Deaton Bridge Rd., Milton, FL. Website: Blackwatercanoe.com We offer a complete round-trip service and are ready to serve all of your canoeing, tubing, and kayaking needs. The Blackwater River is the only pristine sand river left in the United States. The State of Florida purchased and designated it as a State Forest. Towards the end of your trip, you will encounter the Blackwater State Park. It offers
large pavilions, restrooms, and outdoor showers. You will end your trip back where your car is parked. Group rates available.

Boogies Watersports
850-654-7787, 16 Harbor Blvd., Destin. Website: boogieswatersports.com. Located at foot of the Destin Bridge at HarborWalk Village.E-mail:boogieswatersports@gmail.com. Open daily 8am-7pm. Group and Senior discounts. Two-hour narrated cruise of Destin Harbor, East Pass, Gulf of Mexico and Choctawhatchee Bay. We offer underwater viewing, birdfeeding, crab-trap discovery, sightseeing, dolphin encounters and shrimp-net operations. Take pictures of your very own Jr. Captain as they captain the boat.

Buccaneer Pirate Cruise
850-269-0896, 100B Harbor Blvd., Harborwalk Village (Red Ticket Booth on Marina Level). Embark on the adventure of a lifetime aboard the Buccaneer—Destin's Premiere Pirate Cruise! Take to the seas in search of undiscovered treasure. Our captain and mates will amuse you with pirate-themed activities and family fun, with willing participants, in pirate training, sword fighting, water-gun battles, a treasure hunt and authentic cannon fire. Parents are welcome to join in, but only the brave who complete pirate training will become honorary members of the Buccaneer Crew. If you're not keen to plundering and swabbing the decks, simply watch your lads and lasses have the time of their lives. Major Credit Cards Accepted.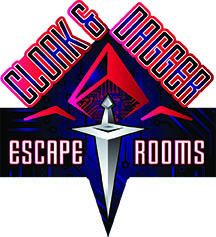 Cloak & DaggerEscape Rooms
850-904-5400, 145 Tupelo Courtyard, Destin, FL. Website: CloakandDaggerEscapeRooms.com Welcome to the world of escape rooms. A thrilling adventure combining teamwork,
strategy, and a whole lot of fun! From
recovering the town's treasure aboard an old western train to fixing a moonshine still, our Baytowne location offers 4 unique adventures.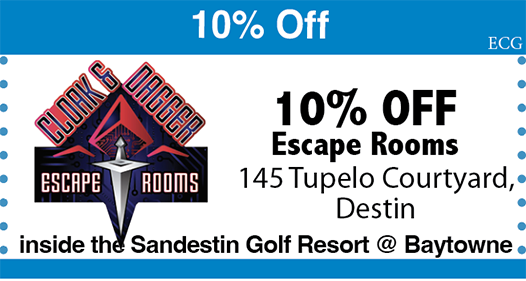 Crab Island Tiki Boats
850-687-1607, Enjoy an exquisite, aquatic 3-hour-tour, aboard the only 16-passenger Tiki boat in the Destin Harbor. Experience a one-of-a-kind boating excursion around Destin Harbor and Crab Island. Our boat captain can lead you on one of our suggested routes, or you can just cruise about. Our Tiki is also great for any special occasion or event. Major Credit Cards Accepted.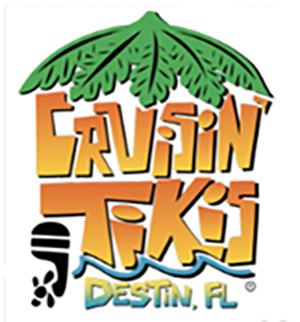 Cruisin' Tiki's
850-200-0573, 288 Harbor Blvd., Destin located behind the Boathouse Oyster Bar. Website: CruisinTikisDestin.com. Why go bar hopping when you can hop on the bar? We are the
original Cruisin' Tiki bars in town offering a variety of cruises that you are certain to enjoy. Unplug & relax on the beautiful waters of Destin, drink of choice, good music and a professional captain. Create memories on the most photographed vessel in the harbor. Military discounts

Destiny Water
Adventures
850-641-1134, 322 Miracle Strip Pkwy. SW; Ft. Walton Beach located directly behind the Quality Inn motel. Website: DestinyWaterAdventures.com Pontoon boat rentals, jet ski rentals & adventures, crab island excursions, sunset cruises, kayak & paddleboard rentals. All safety gear included with rentals. Free parking.

Ebro Poker Room

850-234-3943, 6558 Dog Track Rd, Ebro (30 Mins from Destin). Website: GoEbro.com Enjoy Ebro's famous Prime Rib, play Texas Hold'em, Omaha, 3 card poker, Fortune Pai Gow, Casino War, Crazy Pineapple and many more. Open 7 days a week, year round. Ebro is NW Florida's largest poker room featuring 25 tables, huge jackpots, and weekend tournaments.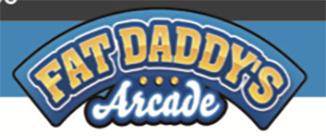 Fat Daddy's Arcade
850-424-6021, 20009 Emerald Coast Pkwy., (next to Fudpucker's) and 1125 US 98 (At The Track!) Destin, Fat Daddy's Arcade is one of the area's top attractions for family friendly entertainment, featuring over 120 of the latest and greatest arcade games, in addition to traditional arcade favorites. Test your skills and win great prizes at Fat Daddy's Arcade! Major Credit Cards Accepted.

850-837-0113, 500 Hwy. 98 E., Destin. Website: sunshinedestin.com. Located on Destin Harbor across from Emerald Coast Scuba and Taco Bell. Look for the bright-red building. Open daily 8am-sunset. Snorkel to depths of up to 10 feet at the first stop and up to 40 feet at the next during a 2-1⁄2 hour tour. Instruction and equipment provided. Also offering Sunset cruises. Reservations recommended.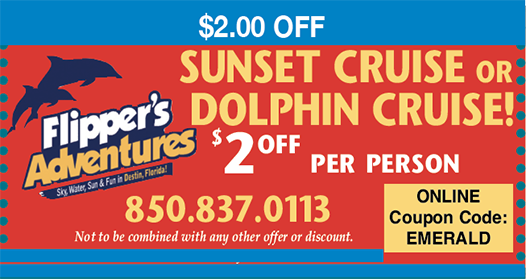 Gator Beach @ FUDPUCKER'S

850-654-4200, 20001 Hwy. 98 E., Destin. Located at Fudpucker's. Website: GatorBeach.com. Open daily at 11am. Come and experience the thrill of a lifetime at Gator Beach —"The World's Greatest
Alligator Park." See 100 LIVE GATORS and FEED THEM, TOO! We'll even let you and the family have your picture taken while holding a LIVE GATOR! Be sure to check out our FREE interactive Gator Shows during the day, view our baby alligators, and check out our new "Mystical Gators" attraction. Visit our website for show times. Bring the family; take home everlasting memories! Admission is FREE!


Glass-Bottom Boat
Dolphin Cruises

850-654-7787, 16 Harbor Blvd., Destin. Located at foot of the Destin Bridge at HarborWalk Village. E-mail: boogieswatersports@gmail.com. Open daily 8am-7pm. Group and Senior discounts. Two-hour narrated cruise of Destin Harbor, East Pass, Gulf of Mexico and Choctawhatchee Bay. We offer underwater viewing, bird feeding, crab-trap discovery, sightseeing, dolphin encounters and shrimp-net operations. Take pictures of your very own Jr. Captain as they captain the boat.
 Major Credit Cards Accepted.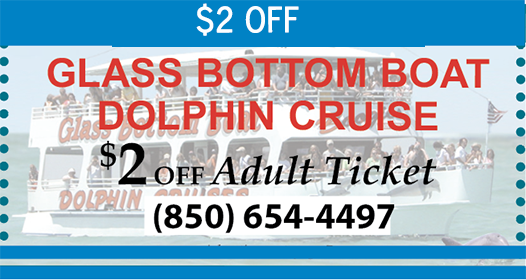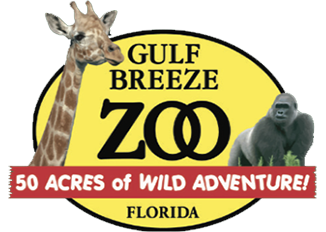 Gulf Breeze Zoo

866-620-1825, 5701 Gulf Breeze Pkwy., Gulf Breeze. Website: GBZoo.com. Located on Hwy. 98, 20 miles west of Fort Walton Beach. Open Daily Rain or Shine from 9am; last admission 1 hour before closing. (www.GBZoo.com for seasonal hours.) Group rates, Senior, Military discounts. Choose your adventure at the award-winning Gulf Breeze Zoo! Home to over 1,000 animals from around the world. Make unforgettable memories when participating in a unique sloth, giraffe, hippo, albino alligator, or Galapagos tortoise encounter. Discover gems and fossils at our new mining attraction and take selfies in the Budgie Adventure Aviary! Make it a perfect day trip with a guided Safari Line Train ride through the 30-acre preserve featuring rhinos, hippos, Western lowland gorillas, and Sumatran orangutans.

Gulfarium Marine
Adventure Park

850-243-9046, 1010 Miracle Strip Parkway, SE. Fort Walton Beach. Website: gulfarium.com. Located on Okaloosa Island, less than a half mile from Brooks Bridge. E-mail: info@gulfarium.com. Non-stop family entertainment featuring the Dolphin Show, Sea Lion Show and up-close animal encounters (reservations recommended). Exhibits include otters, penguins, sharks, alligators and an interactive touch pool.

 Happy's Crab Island
Watersports

850-654-0099, 316 Harbor Blvd., Destin. Located a half-mile east of the Destin Bridge. Enjoy a three-hour Crab Island tour. Rent a pontoon boat. Rent Waverunners by the hour, half-day or full-day, or enjoy a dolphin excursion on a Waverunner. Open daily, weather permitting. Major Credit Cards Accepted.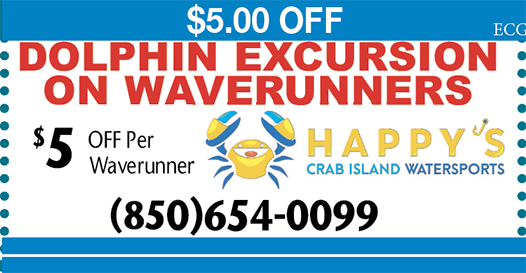 850-687-1607, Book your Crab Island Expedition today, for up to 12 passengers, on Destin's only forty-foot boat available for private, half or full-day tours. Our boat is made complete with floats, coolers and a friendly skipper. Access to the water and back to the boat is made easy with a ladder from the back deck. Bring your drinks and snacks and spend the day with us cruising emerald waters and stopping for relaxation on Destin's world-famous sandbar. Half-day tours are from 9am-1pm and 2pm-6pm. A full-day tour runs from 9am-6pm. Major Credit Cards Accepted.

Just Chute Me
Parasail Co.

850-650-4630, 500 Hwy. 98 E., Destin. Located on Destin Harbor across from Emerald Coast Scuba and Taco Bell. Open daily 8am-sunset. Group and Military discounts. Watersports Industry 2016 Parasail Operator of the Year. We specialize in providing the safest, easiest, and most exciting watersports activity available – Parasailing! Now located at our easy-to-find location. Look for the bright-red building. We are Parasail Destin! Trips depart every hour and a half. Ages 6 and up. Reservations recommended. Major Credit Cards Accepted.

Kartona
Electric Speedway

850-588-7622, 7125 W. Hwy. 98, Panama City Beach. Website: Kartonapcb.com.  Kartona is the panhandle's only all electric, indoor, kart track. Kids (ages 8-12) and adults (13+) can experience the instant torque and acceleration that only electric karts can provide! Adults can reach speeds of 45 mph and kids almost 30 mph! With adjustable seating and 3-point harnesses, safety and comfort are always our top priority! Don't let the unpredictable weather ruin your fun!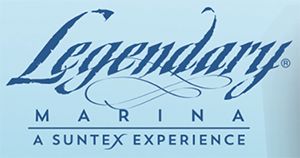 850 865-4431, 4603 Legendary Marina Drive, Destin, FL 32541. Website: https://legendarymarina.com/ Rent A Boat Today And Create Memories On The Water! Whether you're renting a Deck Boat or Pontoon Boat, our top-of-the-line rental boats are clean, comfortable, reliable and ready to help you create great memories out on the water. Swim, sunbathe, fish – or just relax and cruise around, enjoying nature, watching dolphins, indulging in waterfront dining, or soaking up the scenery. Explore Miramar Beach, Crab Island, Henderson State Beach, and more on your rental boat!

Maximum Magic

850-273-7888, Located in the HarborWalk Village in Destin, FL. Website: HarborWalkTheater.com. A truly unique magical experience & the longest running magic show on the Gulf Coast. 90 minutes of world class illusions, hilarious comedy, audience participation, unbelievable mindreading, and special effects, all wrapped up in an action-packed show the whole family will love! Everyone raves, "It was the highlight of our vacation!" Book online at HarborWalkTheater.com.
Mid-Bay Watersports

850-424-6444, 4609 Legendary Marina Dr., Destin. Located at the southern base of the Mid-Bay Bridge, behind the big building with whales painted on it, and next to Lulu's restaurant. Rent pontoon boats and waverunners and ride in a large expanse of Choctawhatchee Bay with no "no wake zones." We have free parking for your car, and we are free from the traffic others have to deal with at the harbor. Major Credit Cards Accepted.

Oddball Tactics Paintball
Tank Park
850-904-6762, 6590 Beaver Creek Rd. in Baker, FL. Website: . Climb in, drive off, take aim, and KICK BUTT! Oddball Tactics is your 18 acres battlefield to conquer or be defeated. Each customer drives a single-person tank and engages in mock paintball battles with friends and other customers (Minimum height requirement). Air conditioned / heated retail store sells prepackaged food and drinks and offers a picnic area for you to enjoy.
Rain Forest Black Light
Golf & Arcade

850-460-8878, 11394 Hwy. 98 W., Suite D, Miramar Beach. Located on the north side of Hwy. 98, right across from Seascape Resort, and about a half mile west of Silver Sands Outlet Mall. Open daily. Escape to a world of adventure in our amazing rainforest-themed 18-hole golf course and our newly remodeled arcade. Plants and animals light up into amazing colors under our black lights. Play a round of golf, arcade games and try our new virtual reality rollercoaster. Fun for a family of all age. Major Credit Cards Accepted.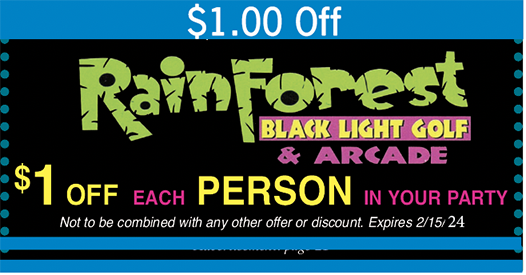 Ripley's Believe It
or Not
850-230-6113, 9907 Front Beach Rd., Panama City Beach. Website: ripleys.com/pcb. Experience Panama City Beach's fun and most unique attractions. Check out the newest exhibits brought to our location from all over the world. Ride the interactive 7D Moving Theater and see if you can make it through the zombie apocalypse or plunder the most gold as you sail on a pirate adventure. Wind your way through our new Mirror Maze. Put up the top score in our Impossible Laser Race. Open daily. Check website for times and pricing. Group discounts available.Major Credit Cards Accepted.

 See Dolphins aboard
Sea Blaster

850-654-6888, HarborWalk Village, Destin. Located in HarborWalk Village Marina at the foot of the Destin Bridge. E-mail: fun@destinseablaster.com. While enjoying free beverages, cruise the beaches aboard the Gulf's largest speedboat searching for dolphins. Snorkel/dolphin combo, beach/dolphin cruises, and sunset/dolphin cruises available. Major Credit Cards Accepted.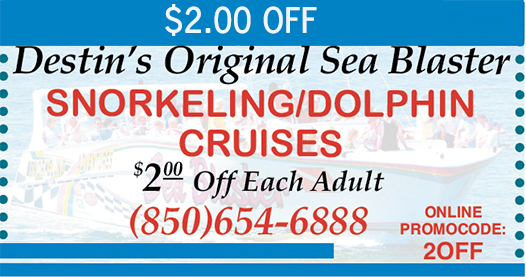 Destin's Original Dolphin Cruise aboard Southern Star
850-837-7741, 100A Harbor Blvd., Harborwalk Village (Red Ticket Booth on Marina Level). Witness the extraordinary aboard Southern Star—Destin's Original and award-winning Dolphin Cruise as featured on CNN and National Geographic Explorer! Observe Coastal Bottlenose Dolphins in their natural habitat on our family-friendly adventure. Experience up-close viewing of dolphins, seabirds and a variety of marine life as we cruise the pristine waters of the Emerald Coast. Our fully-narrated eco-tour provides fun for all ages! Sunset cruises also offered in the evenings-Times vary seasonally. Relax to the sounds of Island music aboard our comfortable glass-bottom boat. Come have fun with us! Major Credit Cards Accepted.


Sunshine Watersports

850-837-2299, 500 Harbor Blvd., Destin. Website: sunshinedestin.com Located on Destin Harbor across from Emerald Coast Scuba. Open daily at 8am. Offering Pontoon Boats, Paddle Boards and Kayaks. Spend a great day on the water exploring the area, watching dolphins, fishing, snorkeling or relaxing at Crab Island. All fun in one.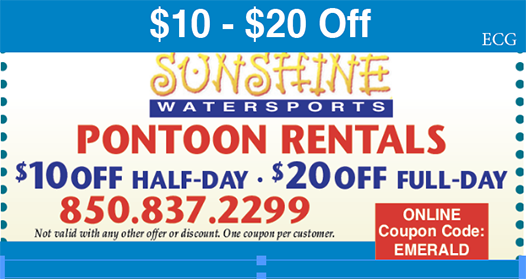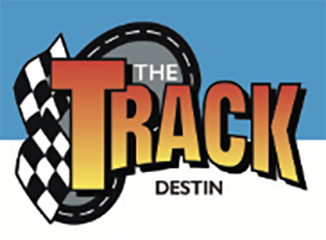 Urban Air Adventure Park

850-398-4729, 14081 Emerald Coast Pkwy, Destin. Located just West of Walmart in the Bealls Plaza. Open daily. We are the largest indoor adventure park on the Emerald Coast offering fun for the entire family. Our attractions include The Sky Rider, Virtual Reality, Laser Tag, Climbing Walls, Battle Beam, Tube Playgrounds, Ropes Course, Trampolines, and much more. Should hunger strike while you play, we have a full service cafe serving hot food, cold drinks and other goodies. Plenty of seating for resting and eating while the others enjoy an adventure.  Major Credit Cards Accepted.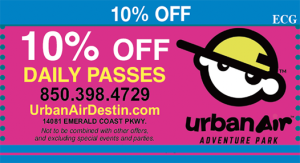 Xtreme H2O Watersports
850-978-3060, 7 Calhoun Ave., Destin. Website: XTremeH2O.net We offer the best prices in Destin for parasailing, dolphins tours via wave runners, pontoon boats, and jet skis. We offer no idle times, so you get the jet ski / wave runner for the entire time you paid for it! We include fuel for your jet ski / wave runner rental – no surprise fuel surcharges from us. Call a day ahead for reservations to guarantee your rental – we also accept walkup customers as well.